Today, with just 6 days notice, the UFC announced that they are moving UFC 232 from Nevada to California.  Why?  Because Nevada would not licence Jon Jones.  Last Thursday USADA, the UFC's privately contracted anti-doping watchdog, notified the Nevada Athletic Commission that Jones tested positive for a metabolite of DHCMT in an out of competition sample take on December 9, 2018.  Consequently Nevada would not licence Jones who was scheduled to headline the event and fight for the UFC's light-heavyweight title.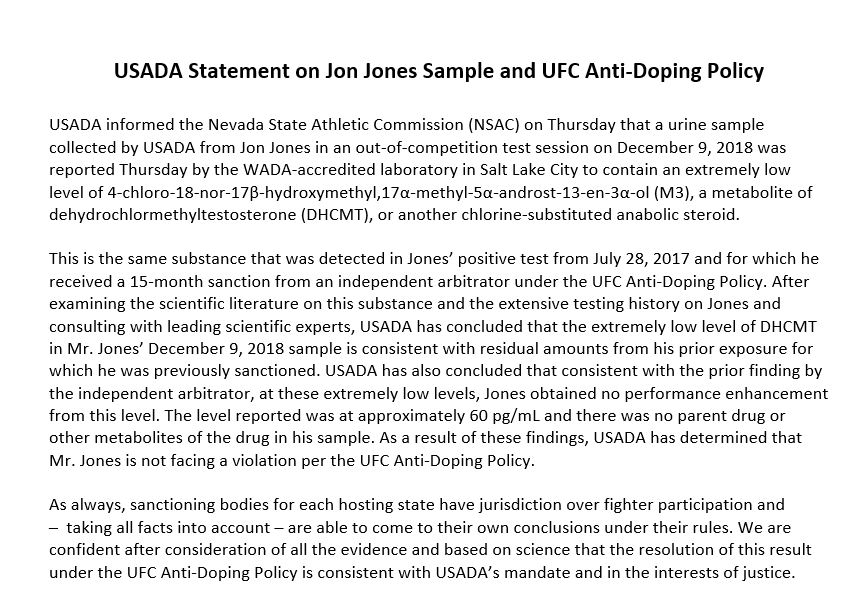 The above statement speaks for itself but seems at odds with the UFC/USADA's 'strict liability' anti doping protocol.
It is unclear if Jones was licenced before this development arose but Nevada would not have granted him a licence any earlier than December 11, 2018 (the date his suspension for his previous doping infraction was lifted in California).
Under Nevada law, if a main event is removed from a card a promoter must offer the ticket buying public a rebate.  Instead of this the UFC decided to outright move the event to California who apparently have no issue licencing Jones.
The UFC could not jettison this event from Nevada without the NAC's permission.  NAC chapter 467.245 holds that
  1.  A promoter may not cancel or postpone a program of unarmed combat unless the cancellation or postponement is approved by the Commission or its representative.
     2.  If a postponement becomes necessary through no fault of the promoter, the Commission may order that the parties enter into a new bout agreement and may approve a new date.
     3.  A small advance sale is not a legitimate reason for a cancellation or a postponement.
     4.  A cancellation or postponement must not be made by the promoter so late that the public cannot be notified in advance through the news media.
Many members of the public will be short changed by this event.  People who purchased airfare, hotel rooms and incurred other expenses cannot conveniently change their travel plans to another State at the last moment.  It is unclear what factors Nevada considered in granting the UFC permission to move this event but protection of the ticket buying and travelling public apparently ranked below whatever factors the NAC found persuasive.
Another interesting issue is that of fighter consent.  It is a heavy handed move to allow one party to a contract in a State regulated sport to outright change the venue of the bout.  The UFC contracts this power in their promotional and bout agreements with fighters.  However, Nevada law requires that the promotion and fighters sign a State approved Bout Agreement which does not appear to give them this unilateral power.
NAC 467.112 requires that "the bout agreement between a promoter and an unarmed combatant must be executed on a form provided by the Commission" and this official form must be filed with the commission one week before the competition for the main event athletes with NAC 467.117 requiring that "a bout agreement between a promoter and an unarmed combatant for the main event of a program of unarmed combat must be placed on file with the Commission at least 7 calendar days before the program unless the Executive Director waives the deadline for good cause shown."
If this section was complied with the official bout agreement signed by Alexander Gustafsson (Jones' opponent) and the UFC does not give the promoter permission to unilaterally impose a venue change.
Gustafsson presumably could insist to be compensated prior to agreeing to such a contractual change.  Other fighters on the card may not be so lucky as their official bout agreements need not be filed with the commission until "before the scheduled time for weighing in".
Fighters will find themselves competing in a State with higher taxes compared to where they agreed to fight and are seemingly powerless to insist on compensation for this with the exception of Mr. Gustafsson unless they too signed their official bout agreements in a timely fashion.